Enter the name for this tabbed section:
Info
ATV Riding in Pittsburg, NH
Beginning the summer of 2013, ATV rentals and tours are being offered nearby at
Bear Rock Adventures
in Stewartstown, N.H., so please check out their informative website for information on rentals and tours.

If you can make it up here for a
midweek stay
this summer or early fall, the good folks at
Bear Rock Adventures
are offering an exclusive deal on ATV rentals to Tall Timber Lodge guests only - just mention the Promo Code
TALL TIMBER ATV ADVENTURE '13
when booking your ATV rentals with Bear Rock Adventures.

This promotion includes the following:

Delivery of an ATV rental to your cabin door (Mon. - Thu.) for a two day rental.
50% discount on the rental of the second day (this discount could be applied to a third day's rental as well).
Pick up of the ATV rental at the end of your stay.
Just mention the Promo Code when you call them for your reservation!
866-663-9777

NH ATV Registrations are sold at the Lodge.
At the end of a fun filled day on the trails, relax at your cabin and have a great meal at the Rainbow Grille. Finish off the day with a campfire by the lakeshore, toasting marshmallows and talking about the fantastic trail riding in the Great North Woods.
Enter the name for this tabbed section:
Trail Systems
Miles of
ATV trail riding
fun in
Pittsburg, NH
can now be accessed from
Tall Timber
. The Great North Woods Riders ATV Club, located in Pittsburg, NH, maintains a trail system on 8,000 acres of privately owned land. There are approximately 100 miles of trails in Pittsburg, ranging from graveled roads to tight wooded trails with some muddy areas, linking up with the newly opened
"Ride The Wilds"
trail system (over 1,000+ miles of contiguous ATV trails).

Some of the trails run along Perry and Indian Streams, providing scenic views and many opportunities to see wildlife. Take in the view of Harris Pond from the overlook picnic area at the end of the Harris Pond Road trail. While the ATV trailhead parking is located on Back Lake Road, just a short distance from Tall Timber, guests may also ride Beach Road and Back Lake Road (10 MPH maximum) to access the trail system. Trail Maps are available right here at the main lodge. Visit the
Great North Woods ATV Club website
for more information.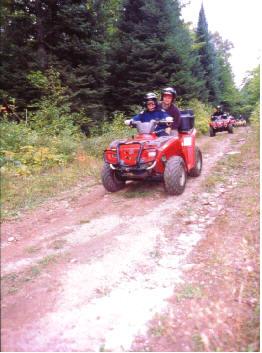 The North Country ATV trail system is located only forty five minutes south on Route 3 in North Stratford, NH. The trail system covers over 30,000 acres, with 120+ miles of trails. Watch a moose at Stratford Bog or have a picnic lunch while enjoying the spectacular view from Haynes Lookout overlooking Groveton. Parking is located at the Gulf Station in North Stratford on Route 3.

Visit
www.northcountryatv.com
for more info on this trail system.
Errol / Millsfield / Berlin, N.H.
There are several other ATV trail systems within one and one half hours drive from Tall Timber. Check out the Success, Jericho Lake State Park and the Millsfield Trail systems. Visit
www.nhatv.com/
for more information and maps.